Did you know that come June, Yamnuska Wolfdog Sanctuary will have been operating as a specialized animal rescue and educational-based non-profit organization for 10 years?

Over our 10 years, we have helped numerous displaced wolfdogs find a forever home as well as become a leader in the education of wolfdogs and advocacy of wild wolves. We have welcomed tens of thousands of visitors to the Sanctuary to see our resident wolfdogs as well as raise awareness for responsible wolfdog ownership and the importance of protecting our wild wolf populations.

We think this is a pretty phenomenal accomplishment and would be honoured if you helped us celebrate!

On July 24th and 25th, we will be hosting our very own 10 Year Anniversary Celebration in our brand new Visitor Center and throughout the Sanctuary grounds! Come join us for a weekend of family (ages 6+) or date night fun, participate in one of our three tour options, and partake in our special 10 Year Anniversary-only activities!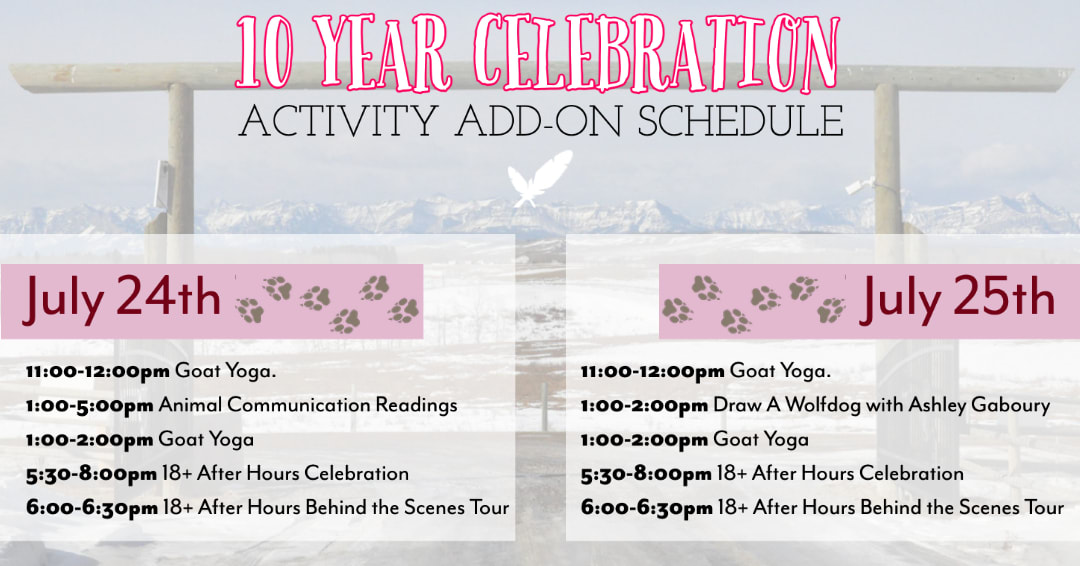 We will also have YYC Food Trucks on-site from 11:30 - 7 pm each day. Waffles N Chix will be on-site Saturday, July 24th and Canadian Bear Balls and Family Squeezed Lemonade on-site Sunday, July 25th. On both days of this event we will be hosting a Support Local Market filled with local vendors and a draw to win a 10 Year Anniversary gift basket! There will be a ton to see and do during this event so be sure to purchase your activity add-on tickets now before they sell out!
This form is for activity add-ons only and does not include admission into the Sanctuary grounds (except the 18+ After Hours Celebration).
To purchase passes to the Sanctuary, visit please visit our website www.yamnuskawolfdogsanctuary.com/, connect with our reservation team by calling 587-890-9653, or visit us in person!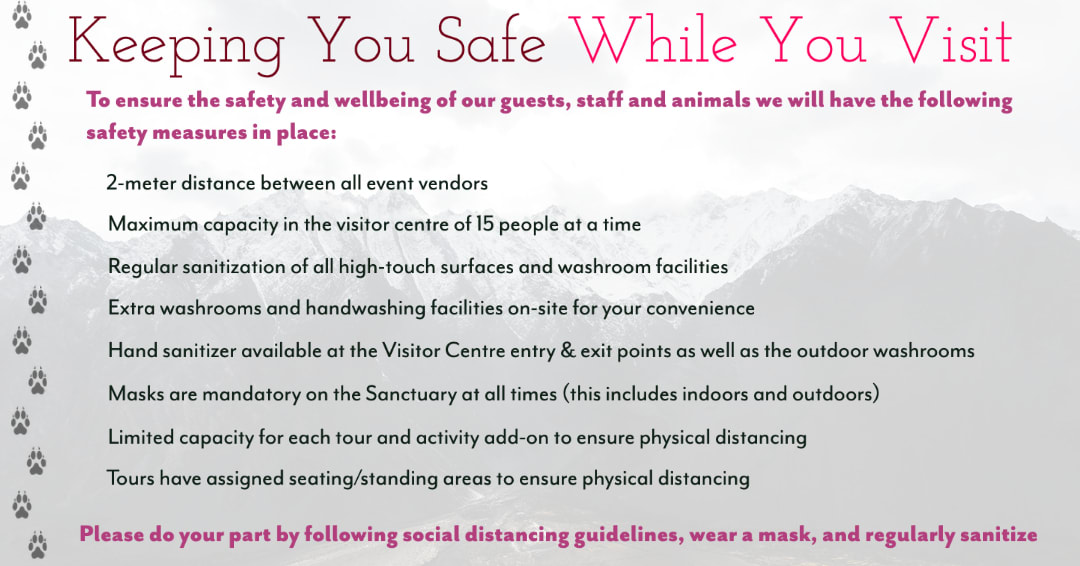 Please Note:
1. These activities do not include access to the Sanctuary grounds (except the 18+ After Hours Celebration). If you would like to explore the sanctuary you must purchase one of our three tour pass options. To view these options or to learn more please visit www.yamnuskawolfdogsanctuary.com
2. The minimum age requirement to visit the Sanctuary is 6 years of age or older.
3. Refunds for this event's add-on activities will only be available with a cancellation notice 24 hours prior to your activity start time. Please email fundraising@yamnuskawolfdogsanctuary.com for all cancellation/refund requests.
4. We will be following COVID-19 safety protocols for this event to ensure the uttermost safety of all of our guests, staff, and animals.